Pedro Figari completed a prolific collection of cardboards under the title "old-fashioned scenes" or "Rosist Scenes" (so called for the governor of Buenos Aires from the XIX century, Juan Manuel de Rosas) in which is included this ballroom dance. Here an impressive and luxurious palette is displayed in the setting of a humorous anecdote. The lady in the light green dress in the centre of the composition drops her shoulder in a simple disdainful gesture to refuse the gentleman the dance that he requests. One deduces, therefore, that the excuse- the title of the painting- is that which the woman gives the only man present, and that which all the other ladies, separated in two groups, are talking about.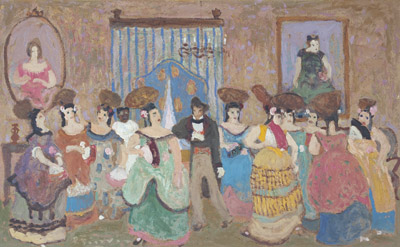 Pedro Figari
The Excuse
Oil on cardboard, undated
52x83 cm
National History Museum Collection
The Colonial period is suggested by the surroundings of the stately ballroom, the chandelier with candles, and of course, by the high-society women with their tall tortoiseshell combs and their dresses filled with petticoats which grant them an exaggerated width to their hips. The fans also stand out as they form part of the "language" of the dance, with the different positions demonstrating the availability, or lack thereof, of the dancer.
Almost hidden, standing beside the blue striped curtain, the African-Uruguayan servant can be noticed, dressed modestly, but immaculately, in white. She is the only character in the painting lacking an eccentric touch (even the male figure has a large wavy quiff). Figari introduces this feminine character, for whom he shows a special sympathy, to emphasise the ridiculous ostentation and social prejudice of the rest, who all seem to be turning their back on her and "covering" her.
From the back walls, two portraits of female ancestors stand out, women who aren't significantly different from those present at the dance.... the wealth of these families comes from past generations, they haven't earned it through their own efforts.
Through this painting, Figari seems to point out, with subtle irony, that such luxury and ceremony, emphasized by the intense colours and unnatural poses, can only serve to make human relations uncomfortable.
Text: Paola Puentes and Pablo Thiago Rocca
Translated: Anna Murray